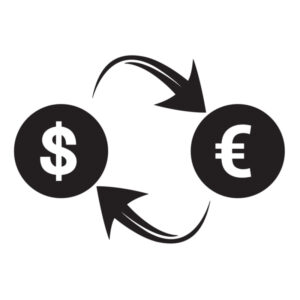 IRgraphic
We are often asked "what is the best way to convert your USD to EUR while you are stationed in Germany?".  You may want to convert euros cover rent, utilities, a mortgage and even just for spending money.
What is the best way to convert your USD to EUR while you are stationed in Germany?
For some time it has been the belief of many that the cheapest way would be to use either an American Debit or Credit Card.  This was a great option but you still are paying 1% in international conversion fees with most cards.  With some cards, you are lucky to get the fees waived while other cards are free all together.  However you still have to go to the ATM ("EC Machine" or "Geld Automat" in German) every month, make a withdrawal and then deposit it into a German account. It is time consuming and tedious.
Another option used by some was to write checks from their US account and make a deposit into a German account, such as Volksbank or Kreissparkasse.  This was a reasonable way to go but again, you were paying around 1% on the exchange.  We caution our clients to watch exchange rates and continually go to make sure their German account has sufficient funds.
The various methods mentioned earlier are still valid but newer more advantageous paths have been developed and refined leaving the previous methods obsolete and quite frankly, too much work.  We have two new suggestions for our clients to take advantage of.  The digital age and what the Department of Defense is offering as payroll support present some new opportunities.
Establish an ITS Account
This is an account known as "International Treasury Service" that you set up through myPay that will allow you to set an allotment up to your German bank account.  This means the funds are deposited directly into your German account on the same day you would have gotten paid to your US account.  No more ATM trips, no more deposits, no more need for a credit card or check!  Best of all, these transfers are done at the updated market rate meaning you are no longer paying for a ridiculous exchange rate that can be as high as 1-2.5% depending on the bank you're working with.
There are several steps to setting up an ITS account, but at the end of the day it is quite easy.  We have several white paper downloads we can send you to help you get everything set up.
Sign up to receive your free white paper downloads by clicking the request button below.
Establish An Account on Wise.com (Formerly known as "Transferwise")
The second option we suggest is for anyone who are not able to take advantage of ITS due to their institution not authorizing it.  Simply use
Wise.com
, formerly known as "Transferwise".  Wise.com is a foreign exchange business that specializes in converting currencies for private and business users.  Mitchell Consulting has converted millions of Euro to and from USD for our clients using Wise.com. It has been reliable, fast and simple to execute.
The concept behind Wise.com is that they do not actually convert the money sent from one currency to another, but instead utilize their high balances in each currency to accept your USD in to their USD accounts, then pay you out in Euro into your German account(s).   Other customers who are converting currency in the opposite direction are simply replenishing the fund in their balance sheets for future users.   This eliminates all currency conversion fees that banks generally charge (at a higher price) and benefits the end user by saving tremendous amounts of money in the process.
You can join Wise here using the Mitchell Consulting team Link: 
https://wise.com/invite/u/robertm5324
The step by step instructions for Wise.com are easy to follow.  You can establish automated monthly rent payments, one time transfers and track the stages of each transaction along the way!  If you do not have access to ITS services, Wise.com is the next best thing.